&
#13;
Welcome back! Did you download The Ultimate Trip Planner, yet?
I am not sure why it took me so long to share my hometown, Gainesville, Florida, as I have been a local here most of my adult life. And the longer I stay, the better it gets. Here you'll find a list of my favorite things about living in Gainesville, as well as some excellent advice for visitors who are looking for the best things to do in Gainesville Florida. 
📌PIN IT HERE FOR YOUR FRIENDS📌
Affiliate Disclosure: There are affiliate links throughout this post. This means if you click on a link and purchase a product through that link, then I will receive a small commission for the referral. And that is kinda cool.
Gainesville is a charming city, and with the University of Florida as the centerpiece, Gainesville has a youthful atmosphere and vibrancy that many other cities lack. 
Gainesville has visitors from all over the world due to the higher education landscape. This diversity creates an inclusive atmosphere full of all the things a multitude of cultures brings — arts, food, style, music, and activities. Whereas the University of Florida is undoubtedly the sprawling center point to the city, there is much more to offer, from nature to food to breweries, sports, and art. Gainesville is not just a lively city for the college kids; it's so much more.
Gainesville, Florida, is not a major tourist destination, but it offers quite the experience if you look a little closer. 
We hope you enjoy our little piece of paradise.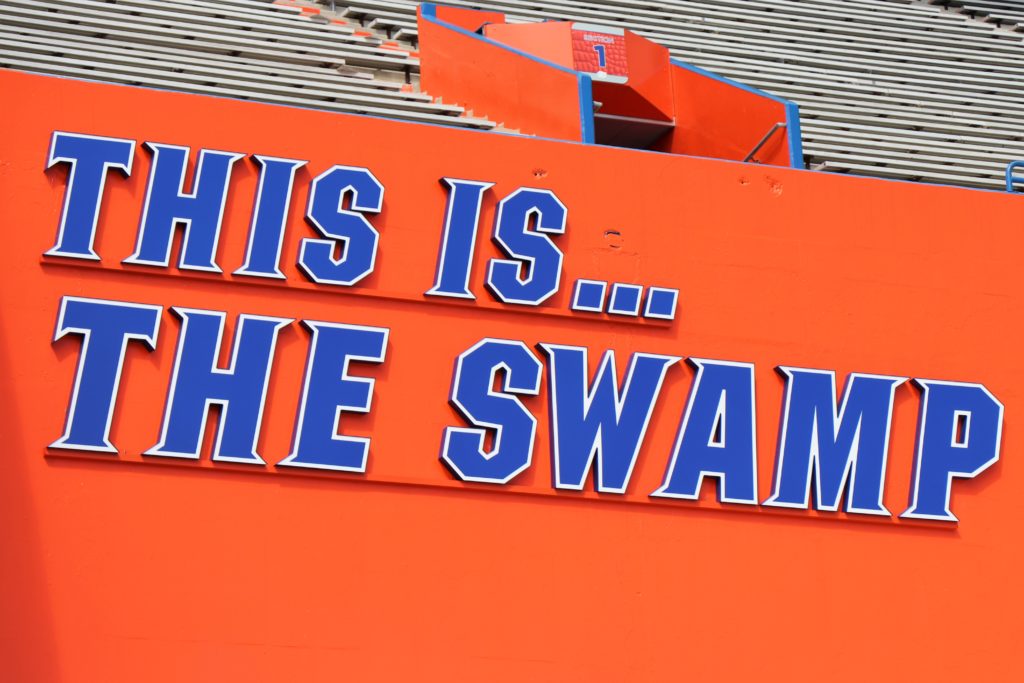 10 Fun Facts About Gainesville, Florida.
1. Location ~ Gainesville, located in north-central Florida, 113 miles northwest of Orlando (Disney World). It is the largest city in Alachua County, measuring 62 square miles.
2. Gainesville is home to the University of Florida, which enrolls about 50,000 students.
3. Climate ~ Gainesville has a humid subtropical climate and an average temperature of 60 degrees Fahrenheit during the winter and 90 degrees Fahrenheit during the summer months. 
4. Elevation ~ The average elevation of Gainesville is 121 feet above sea level.
5. Population ~ About 130,000.
6. The closest beach to Gainesville is Crescent Beach, about a 90-minute drive.
7. Famous People from Gainesville include Bo Diddley, Tom Petty, River Phoenix, and Sister Hazel.
8. The sports drink Gatorade was invented in Gainesville and used to replenish electrolytes and rehydrate the football team during intense workouts in the heat.
9. Gainesville is known for "Gainesville Green," a high-level potent weed (pun intended) rivaling Mexico and Jamaica.
10. There are four haunted buildings in Gainesville: The Hippodrome State Theatre, Beaty Towers (a dorm on the University of Florida Campus), the building that once housed The Purple Porpoise, and the Sweetwater Branch Inn (this is where I married my husband on a rainy Sunday in June).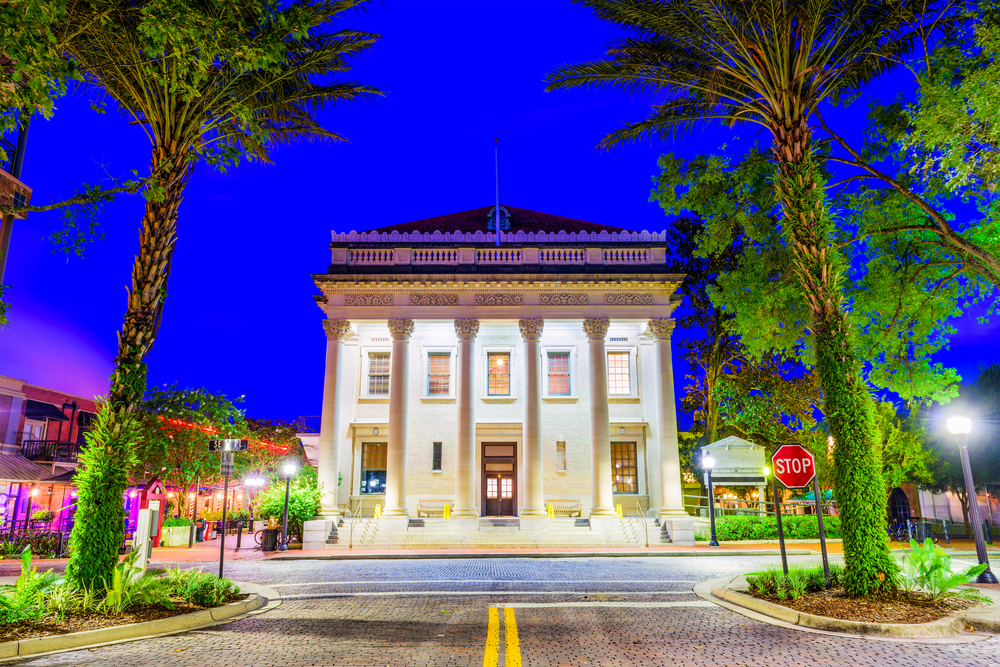 The Top Ten Outdoor Things To Do in Gainesville, Florida.
The Butterfly Rainforest boasts a 6000 square foot screened exhibit of lush tropical plants and waterfalls full of hundreds of butterflies, birds, turtles, and fish. The admission price is only $14 for adults, $7 for kids, and $12 for seniors. The rainforest is open from 10 AM to 5 PM Monday through Saturday and 1 PM to 5 PM on Sundays. The Butterfly Rainforest is a perfect spot for kids' birthday parties.  
Florida Museum of Natural History ~ While not an outdoor thing to do, the museum is next door to The Butterfly Rainforest, and it's free. So don't miss this. The Florida Museum of Natural History is one of the nation's top five natural history museums, explaining our state's history and habitats year-round. There are super cool skeletons of a mammoth and mastodon from the ice age. The museum is open from 10 AM to 5 PM Monday through Saturday and 1 PM to 5 PM on Sundays. General admission is free.
Kanapaha Botanical Gardens ~ With nearly 70 acres of pure nature and home to over 300 species of plants and flowers, Kanapaha Botanical Gardens is the perfect place for photography, exploration, or simply finding a quiet space for peace. Visitors can take a self-guided tour or participate in outdoor activities, including walking trails and a butterfly garden.
Kanapaha Botanical Gardens has the state's most extensive collection of bamboo. And the most beautiful display occurs in the warmer months when the giant water lilies cover the ponds in colossal lily pads. 

The Gardens host several yearly events, including a Spring Garden Festival and a Moonlight Walk. Plus, it is a stunning spot for weddings. The gardens are open Monday, Tuesday, Wednesday, and Friday from 9 AM to 5 PM, and Saturday and Sunday from 9 AM to 7 PM or dusk (whatever is earlier). The admission price for adults is $10, and the Kids cost $5.
Devil's Millhopper State Park ~ Hike down the boardwalk about 120 feet deep to the sounds of trickling waterfalls into Devil's Millhopper, a limestone sinkhole covered in lush vegetation and resembling a miniature rainforest. Even in the warmest months of summer, you will notice a temperature change as you descend about 200 steps onto a viewing platform in the middle of the sinkhole. Devil's Millhopper is open Wednesday through Sunday from 9 AM to 5 PM. There is no ranger station, so deposit $4 per car into the dropbox. If you arrive on foot or by bicycle, the cost is $2 per person. 
Admittedly, I have a sinkhole phobia. But did you know there is no actual word for that phobia? 
Visit Santa Fe College Teaching Zoo ~ The Santa Fe Teaching Zoo is a ten-acre zoo on the grounds of Santa Fe College. It is a fun and informative place for kids and adults alike to go and learn about exotic animals. Operating hours are daily from 9 AM to 3 PM. The cost for adults is $8, and for kids, $5.
Sweetwater Wetlands Park ~ I discovered Sweetwater Wetlands Park during the pandemic as a place to watch the sunrise while eating breakfast and sipping coffee with my husband. Plus, there are over three miles of trails and boardwalks for a peaceful walk in nature. You will find many species of birds, including bald eagles, hawks, great white herons, black-bellied ducks, and Buff-breasted Sandpipers. For this reason, the wetlands are a top spot for bird watchers. In addition, you are sure to see alligators, and maybe even a wild horse or two. The park is open 7 AM until sunset daily. The admission fee is $5 per car. If arriving on your bike or on foot, the cost is $2 per person. Wear sunscreen; there is minimal tree cover. And pack hydration.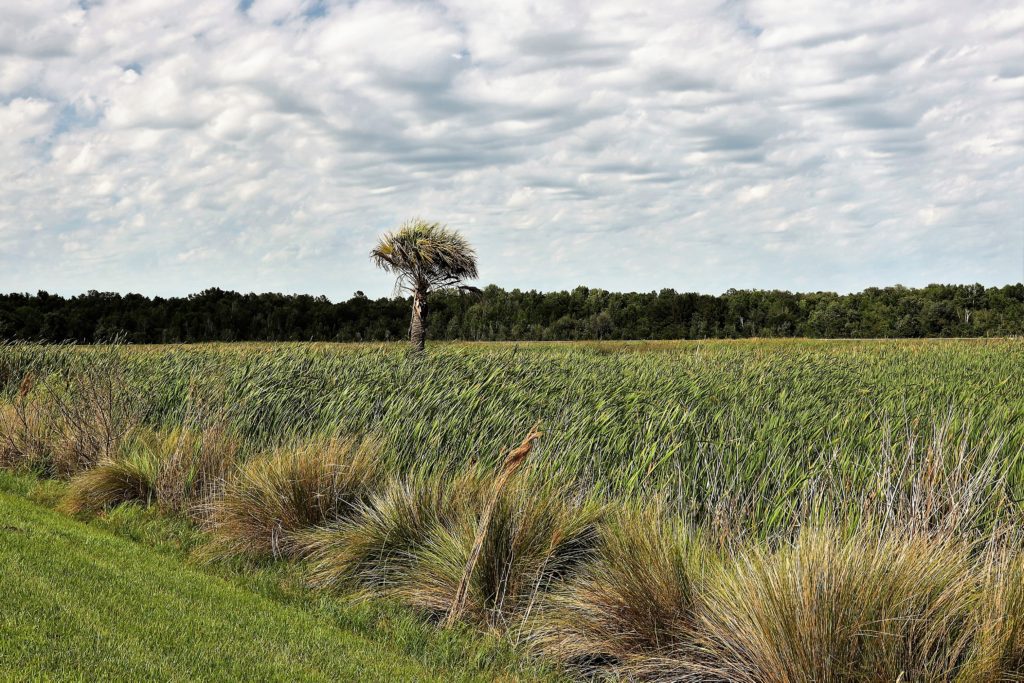 Something New: Headwaters Park
My friend, Glenn Terry from The Grove Guy, recently explored Hogtown Creek in Gainesville and shared his experience with me. It sounds fun, especially for the kids with space to run, hike, and play. And, I hear the playground has a Zipline. Thank you, Glenn, for sharing.
Every waterway starts somewhere. Gainesville's Hogtown Creek begins at an exciting new park, "Hogtown Creek Headwaters Nature Center." The headwaters park is located in North Gainesville at 1500 NW 45 Ave. It's a wonderful place to hike, tour a 140-year-old farmhouse, or treat the kids to an imaginative playground. While the grounds are available every day, the farmhouse hours are limited — it is open from 10-3 on Tuesdays, Wednesdays, Thursdays, and Sundays. On the half-hour hike, I explored a bit of nature where — so close to established neighborhoods — I did not expect it to be.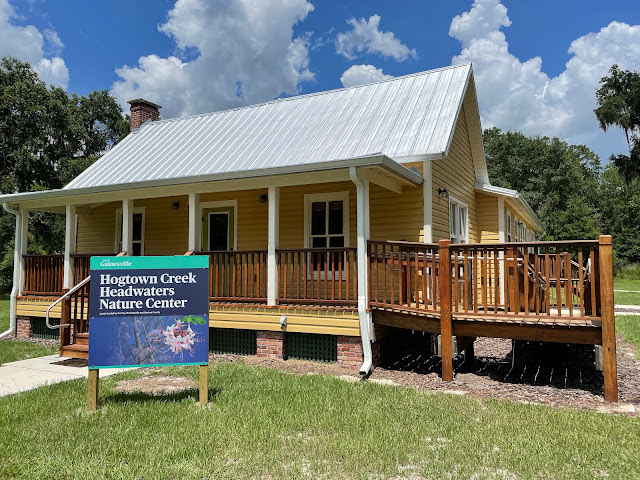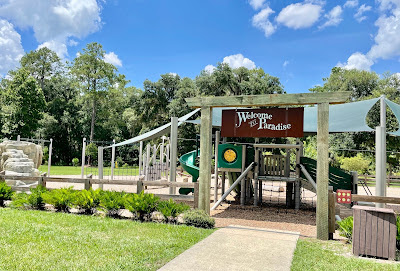 Visit the beautiful University of Florida Campus. 
View both historic and modern buildings with beautiful architecture. The University of Florida (locally known as UF) is a public research university located in Gainesville, Florida, with over 100 undergraduate majors and more than 200 graduate programs to choose from to study.
UF is the largest university in the state and one of the largest schools in the United States, with over 50,000 undergraduate and graduate students combined. 
The beautiful campus has everything students need, from an outdoor amphitheater to a sports complex with an Olympic-sized swimming pool and world-class sporting venues for football, basketball, gymnastics, soccer, baseball, softball, and tennis.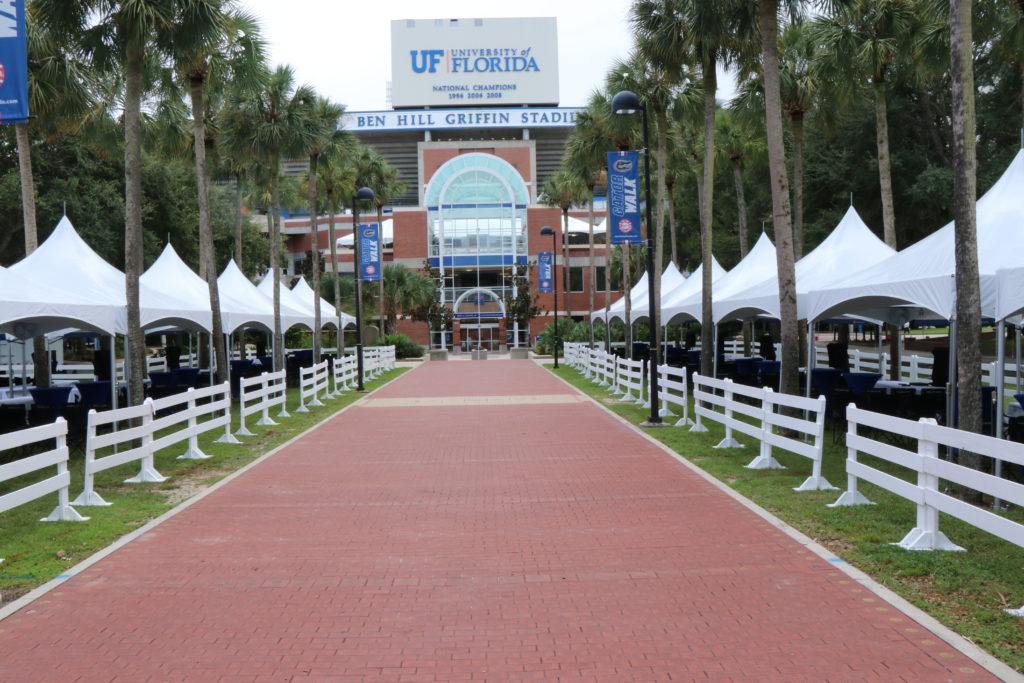 Here are six things on the University of Florida Campus you won't want to miss.
One of the most popular places to explore on campus is Ben Hill Griffin Stadium, locally known as "The Swamp." This stadium is the largest in Florida and home to the Florida Gators football team, and it seats more than 90,000 people.
Lake Alice is a natural lake on the University of Florida campus. It is one of the most popular destinations for students and visitors to head out for a couple of hours of peace in nature. Lake Alice provides a scenic escape from campus and offers opportunities for quiet studying and leisurely activities such as picnicking with friends and family members. You may spot alligators, turtles, and even bats.  
The University of Florida's bat house was built in 1992 across the street from Lake Alice. There are two bat barns and one bat house, and they are considered the world's largest occupied bat houses. The University estimates that 23,000 Mexican free-tailed bats live in this building, which provides these animals with a significant habitat with plenty of water and food sources. The bats will fly out of the bat house at dusk on warm nights to forage for food, have a drink of water, and get some exercise.
Visit the Baughman Center ~ The 1500 square foot chapel sits on the edges of Lake Alice. With space for nearly 100 people, the chapel is a popular venue for weddings and memorial services and is used as a space for quiet meditation or simple tranquility.
And if you are up for exercising, hit up Ben Hill Griffin Stadium to climb the steps. "Stadiums" are a fun aerobic exercise that requires only a good pair of shoes and your favorite football stadium.
After burning a ton of calories doing stadiums, visit the Reitz Union for some grub, I mean an excellent healthy lunch.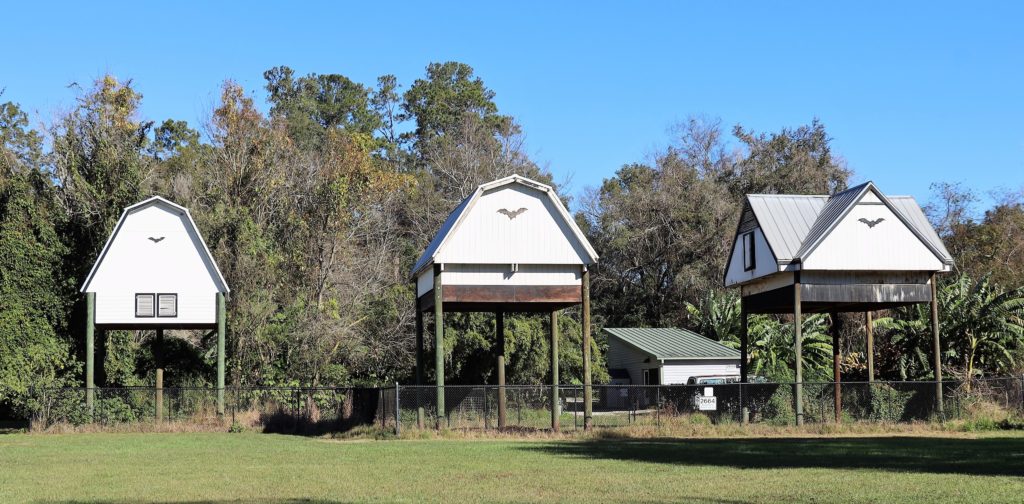 Gainesville to Hawthorne Trail ~ The Gainesville to Hawthorne Trail stretches sixteen miles through Gainesville to Hawthorne, beginning at Boulware Springs Park. It's primarily shady, has lots of wildlife, and many people head out walking, jogging, cycling, and skating. Plus, there is a grassy equestrian trail alongside.
River Tours Both Day and Night ~ (Here's more from Glenn, who has experienced the Santa Fe at night. Daring, to say the least).
I should have remembered the Boy Scout motto, "Be prepared," before I went venturing on the Sante Fe River at night. Next time I'll bring warmer clothes and more light than a cell phone.
The High Springs Boat Ramp off Highway 41 gives you and your boat easy access to the broad, dark Sante Fe day and night. Twelve miles downstream, you'll join the Suwanee River, which will take you to the Gulf of Mexico!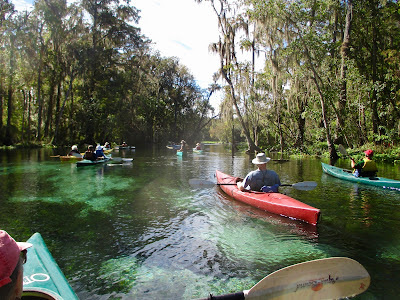 Want to borrow a boat? Rent a kayak or canoe at the Canoe Outpost. They're open every day, 9-5, and they often have full moon river tours.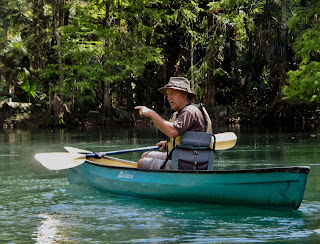 My wife and I love guided river trips with naturalist Lars Anderson. He has run "Adventures Outpost" for years (386-497-4214). You can choose from over thirty guided trips, usually joining a group of 6-8 people. Some of them are of the full-moon variety.
Exploring the rivers, springs, and coastal waterways of North Central Florida is a fantastic experience. I hope you have a paddle in hand soon.
Canoeing, kayaking, or stand-up paddleboarding on the Santa Fe River is a unique way to experience northern Florida's natural beauty and serenity while getting in your fitness.  The Santa Fe Canoe Outpost has been in business successfully since 1991 and is open Wednesday through Sunday from 9 AM to 5 PM. Paddle down the river, and they will pick you up when you are finished. Swim in multiple springs, including Lily, Blue, and Poe. And you will have the opportunity to see wildlife such as turtles, snakes, otters, an occasional alligator, and multiple species of birds.
Depot Park ~ There are many things to do at this family-friendly park in Gainesville, Florida. Begin with feasting on a wood fire pizza and sipping on sparkling Sangria or an ice-cold craft beer (they have Ultra, too). Then, rent a scooter, ride around the conservation area, or stroll the promenade to take in the local wildlife. Bring a blanket and a book for relaxation on the lawn. Or use your imagination in the Cade Museum of Creativity and Invention.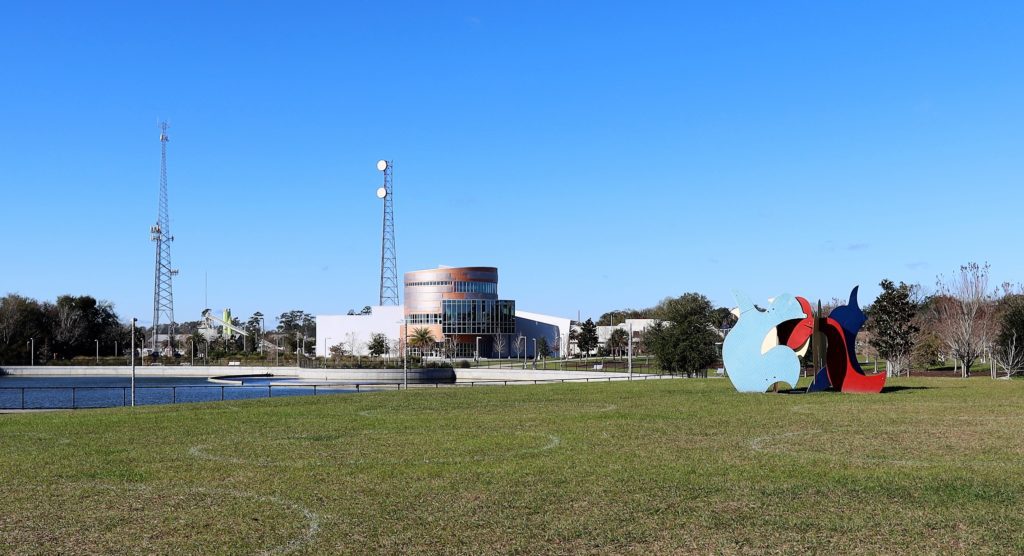 Day Trips from Gainesville for Outdoor Adventures.
The Canyons Zipline and Canopy Tours ~ Travel south for about 40 minutes for a day trip to The Canyons Zipline and Canopy Tours in Ocala, Florida.
Here is how it went.
As I was getting ready to do this thing way out of my comfort zone, the first thing I felt was fear. Like, what was I thinking? Then, mild panic set in as I realized I had no idea how this experience would turn out. And there was no turning back. I had a million thoughts going through my head, and all I could think about was the worst possible scenario. My fear never went away, but it did start to dissipate the more I experienced the exhilaration of flying 155 feet in the air through the canyon surrounded by the beauty of nature.  
If you aren't into this kind of adrenaline rush, you can kayak or horseback ride through the canyon, too.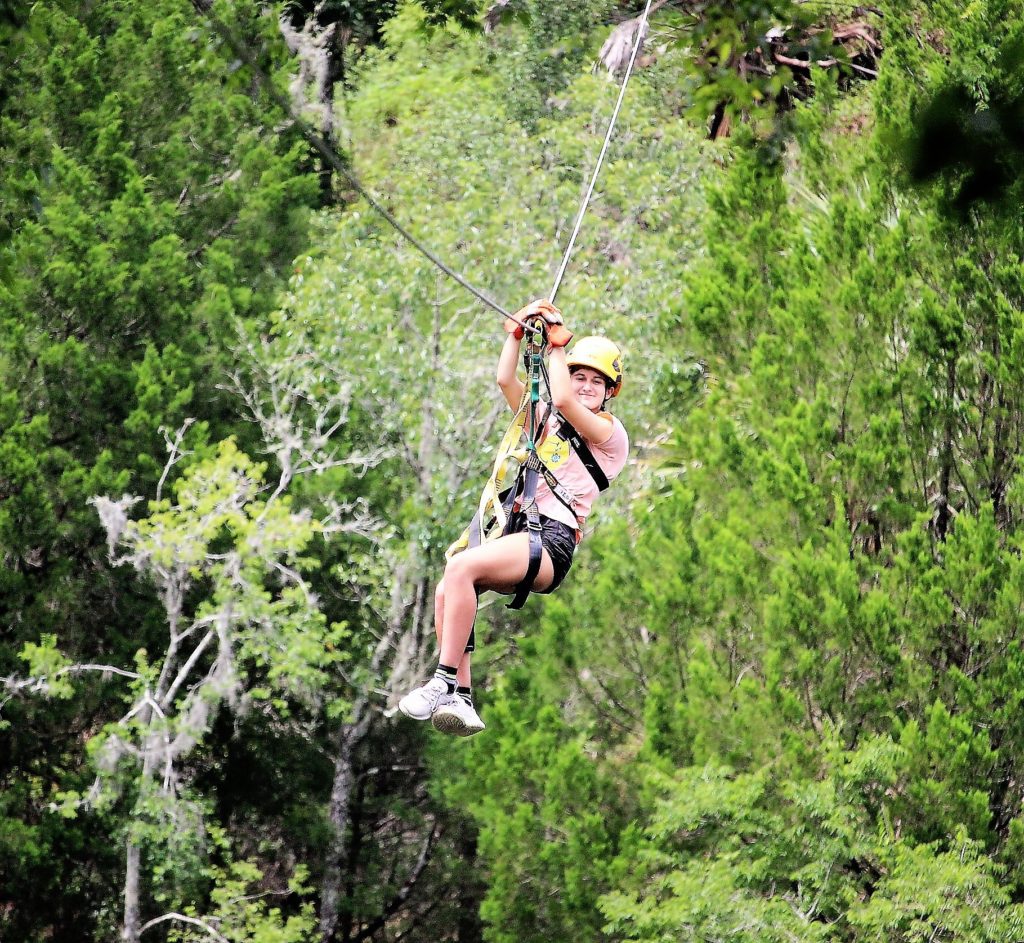 Ichetucknee State Park ~ Ichetucknee Springs, only 45 minutes from Gainesville, is a natural lazy river surrounded by lush green forests. Tubing the springs together with family for a day of fun and relaxation is a fantastic experience. The water temp of the spring stays 72 degrees year-round, and it is perpetually crystal clear.
This natural wonder offers visitors opportunities for swimming, tubing, snorkeling, canoeing, and kayaking while basking in the glory of nature. Tubing down this natural waterway has become one of the most popular activities at the park with family and friends alike.
There are many options for tubing Ichetucknee Springs with family for a fun, relaxing, nature-filled day. You can tube solo or with family or friends. Another option is a guided tour that's perfect for those looking to enjoy the springs' natural beauty while listening to informative narration about the history and ecology of the area. Or enjoy an unguided float where you are on your own and can decide how long you want to spend.
And there's always kayaking or stand-up paddleboarding for those looking for something more active.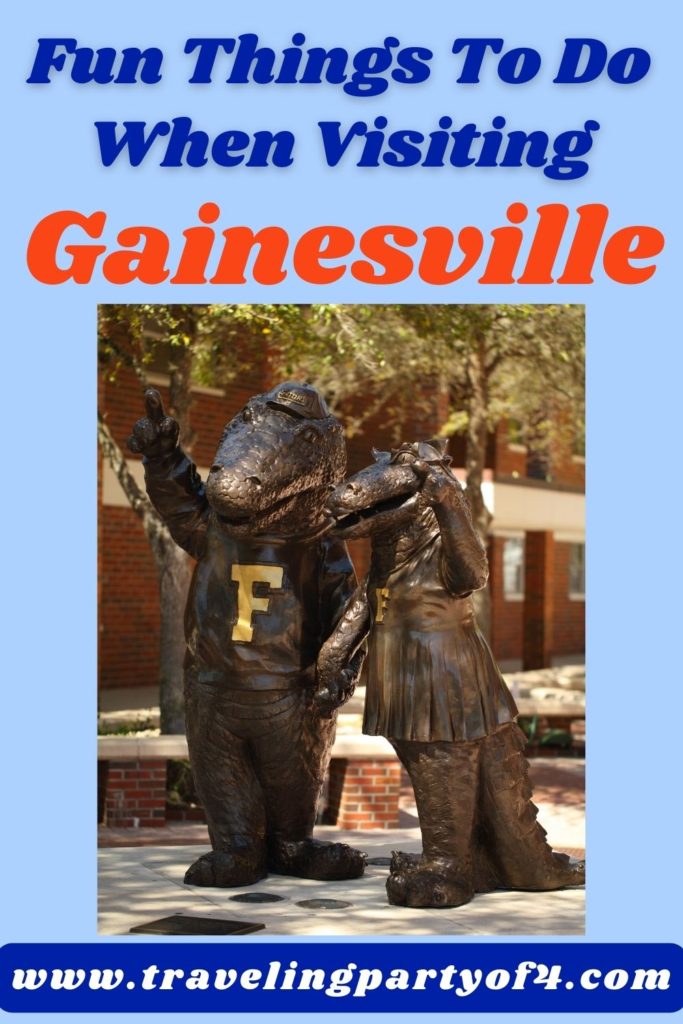 Gainesville is a unique city with so much to offer. Whether you're looking for museums, botanical gardens, or sporting events – there's something for everyone in this charming Florida town.  
Have you been to the area before? What are some of your favorite things about it? If not, what would be on top of your list? Let us know in the comments below.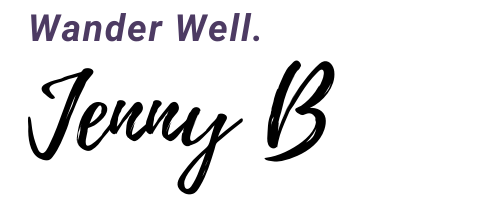 Source link